The holiday season will soon be in full swing, which means it's time to start tackling your Christmas gift list! Finding the perfect present for the stylish woman in your life can be tricky. But shoes are a foolproof gift idea that puts a smile on her face year after year.
In this festive guide, we'll recommend the top women's shoes from 7or9 for holiday gifting in 2023. From cozy boots she can wear while sipping hot cocoa to glittery heels for NYE parties, keep reading for Christmas shoe gift inspiration she'll absolutely adore.
Timeless and Elegant - The Perfect Loafers for the Classy Woman
Whether she's naughty or nice this year, loafers from 7or9 make jolly gifts for the classically chic lady. She can slip into these stylish shoes for everything from cookie swaps to NYE soirees.
The Oreo Cookie loafers, in their black and white cow leather, are a heavenly match for the Christmas Day dinner or choir caroling. Their breathable lining keeps her toes singing fa-la-la-la-la in comfort. Picture the smile when she unwraps her new loafers—versatile, festive, and made for joyful memories. Her feet will cheer in comfort through evenings out, days in, and everything in between!
What if she imagines herself as a snowy majesty in a sparkly crown? The khaki Chestnut Buns loafers deliver royal vibes with their cushy latex pads fit for a queen. Let the flurries swirl around her feet, keeping her cozy and warm as she makes the season bright one step at a time. Let it snow, let it snow with shoes made for wintry fun!
However she chooses to celebrate, these 7or9 loafers fit the bill. Watch her face glow, unwrapping classic kicks ready to spread seasonal cheer from Santa's workshop to midnight champagne toasts!
Comfort Meets Style - Flats for the Laidback Gal
If she is the casual Christmas queen with a fa-la-la lifestyle, she'll love flats from 7or9 or as her new partner in the holiday hustle. She can deck the halls and spread seasonal cheer in shoes as comfy as snuggling by the fire sipping hot cocoa.
The latte-hued Malt Candy flats in buttery leather will be like slipping on a beloved pair of slippers. Their pillowy padding and round toe provide sleigh-ride comfort for all her deck, the halls hustling and bustling. No more sore soles from spreading good cheer!
Or for our spirited sugar plum who sprinkles holiday magic while jetéing and pirouetting about, the shiny silver Mint Candy flats are just the ticket. Their flexible rubber soles give her the freedom to Nutcracker prance across the floors. No stiffness to hinder her pliés or fouetté turns!
And for Santa's speedy elf dashing about on present-wrapping duty, the pointed-toe Muskovado Mochi flats add just enough sprightly pep to keep her gift-giving on track. No time for rest when you're a busy elf!
However she chooses to spread that cozy holiday cheer, these 7or9 flats will cushion her strides in seasonal style. Just picture her face all aglow, wearing her new shoes made for comfort and joy. Fa-la-la-la-la all the way!
Stepping Up the Glamour - Stunning Heels for the Fashionista
Oh, to imagine the delight on her face Christmas morning when she springs out of bed to find these glamorous heels nestled under the tree, wrapped up just for her!
Imagine her glee when she unveils the sensual Cranberry Mary Jane on Christmas morning! These rich red patent leather seem made for spicing up her little black dress on NYE. With a 2-inch block heel, she can ring in 2023 in style and comfort. The air-touch foam toe box will cradle her feet so she can dance from the early cocktail party through the midnight countdown.
Or if her feet crave more wiggle room, the Red Velvet Cake 4.0 in fiery red silk is her cha-cha-cha ticket. This shoe captures the captivating glow of moonlight on a wintry night, ensuring that her steps will twinkle like stars in the sky. The plush foam cushioning ensures her arches stay supported for fox-trotting with friends late into the night. Twirling around to show off her new heels while belting out carols, our fashionista will shine brighter than the star on the tree top.
Who said the holidays aren't made for divas to shine? She'll light up the room and the dancefloor in these showstoppers faster than you can say "Merry Christmas!"
The Bold and Beautiful - Ankle Boots for the Trendsetter
Is she a busy boss babe always on the go slaying her stockings? Ankle boots from 7or9 will be her new partner in crime for looking chic yet comfy this Christmas.
The Meteor Latte 4.0 ankle boots in sleek black leather are made for the modern Queen Bee. Their square toe and elastic sides give a polished yet laidback look from client lunches to holiday happy hours. She can conquer the world in these boots!
Could it be she's more of a comfy couture queen fantasizing about fuzzy footwear and steaming chocolate drinks? The Creamy Soup boots in creamy oatmeal leather and plush faux-fur lining deliver all the hygge vibes. Now she can rock around the Christmas tree in toasty warmth that even Scrooge would approve of!
Or perhaps she wants holiday style with a kick to match her fiery spirit. The muted Kiwi 2.0 ankle boots serve boss babe realness with their vibrant kiwi green leather and walkable block heel. Slaying never looked so fun and festive!
No matter her flair, she'll jump for joy unwrapping these 7or9 booties made for go-getting gals. Finally, footwear she can hustle the holidays away in while looking hip, hot, and happening!
Boho Chic Personified - Knee-High Boots for the Artistic Soul
Is she a creative elf who embraces her free-spirited artistry? Then Santa needs to fill her stocking with a pair of 7or9's knee-high boots this Christmas!
The Milk Coffee 2.0 knee-high boots in luscious chocolate leather will feed her crafty cookie Decorating side. She can frost and sprinkle to her heart's content with roomy square toes and fresh antibacterial lining. Who cares if icing gets everywhere when her tootsies stay cozy?
Maybe she fancies herself a Spice Girl in the kitchen whipping up tasty holiday treats. The Oatmeal Muffin 2.0 boots in wholesome oatmeal suede provide traction for all that mixing and baking. She'll dash between ovens and counters to prep goodies that would make her family proud!
Or perhaps she embraces her inner Snow Queen and wants to capture icy winter wonderlands. The Black Knight 2.0 tall boots in smooth cow leather repel drizzles so she can tromp through snowbanks seeking perfect paintings. Those cushy soles keep her boots marching for miles in search of Jack Frost's best work.
After long days crafting, baking, and painting like the elves, she'll eagerly snuggle tired tootsies into these thoughtful boots. See her face light up as Santa knows precisely how to keep creative spirits like her cheerful all season long!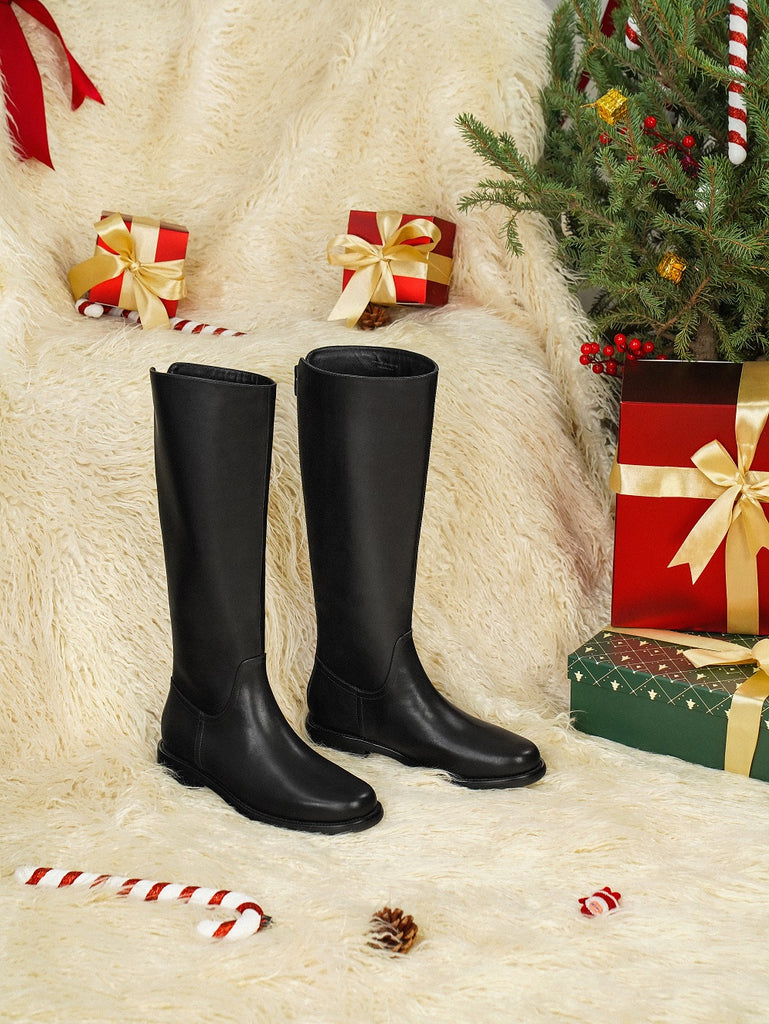 Luxe Shoes from 7or9 for Every Festive Occasion
Sleigh the holidays with sparkling shoes she'll adore from 7or9! From festive heels to fa-la-la flats, wrap up the perfect pair for every stylish lady on your list. Picture her Christmas morning delight as she unboxes ruby red pumps ready for holiday parties. Or gift cozy tan boots primed for winter walks in the park.
With 7or9's guide to her dream shoes for the season, holiday shopping is holly jolly easy. Keep her personal flair and yuletide activities in mind, and watch her unwrap your thoughtfully chosen present with joy!
She'll jingle all the way through non-stop December days in shoes picked just for her. Bring on the mistletoe and champagne toast NYE while she dances the night away in glittering gold heels.