Loafers are the quintessential footwear staple, pairing perfectly with virtually everything in your closet. In 2023, it's the perfect time to refresh your loafer wardrobe with the latest styles.
Our guide traverses a variety of looks, from the structured elegance of blazers to the cozy appeal of bulky coats and the effortless chic of slip dresses to the simplicity of jumpsuits. We aim to provide cutting-edge trends, practical tips, and ample inspiration to help you redefine your loafer game for any occasion.
Dive in to explore the multifaceted charm of loafers and learn how to transform them from work-appropriate to party-ready within minutes.
Relaxed Vibes: Baggy Jeans and Loafers
Baggy, loose-fitting jeans are trending to embody a relaxed, carefree style. Their slouchy, casual vibe perfectly contrasts with structured loafers for a comfy, laid-back outfit. Cuff wider-leg jeans to show off chunky loafers, or roll baggy jeans for subtle ankle flashes. This pairing works for concerts, art galleries, or just hanging with friends. Finish with an oversized tee or blouse half-tucked into jeans for effortless vibes.
Casual Chic: Shacket and Loafers
Straddling the line between a shirt and a jacket, the 'shacket' embodies the quintessential element of transitional wardrobe staples - merging versatility, comfort, and style into one indispensable piece. Shacket up with loafers for laidback weekend vibes. A button-up denim shacket, t-shirt dress, and comfy suede loafers make getting dressed easy-breezy. For casual elegance, layer a cozy flannel shacket over a slip skirt and polished penny loafers. This comfy-chic pairing is perfect for brunch, errands, dog walking, or friend hangouts.
Cozy Elegance: Maxi Sweater Dress and Loafers
Maxi sweater dresses are cold weather MVPs-serving up effortless grace, coziness, and style all in one. Loafers add the perfect dose of refinement for a chic winter style you can live in. A belted, turtleneck sweater dress with sleek loafers is the epitome of elegance. Feeling extra comfy? Style an oversized cowl neck sweater dress with chunky loafers. This winning pairing works overtime, from the office to dinner dates.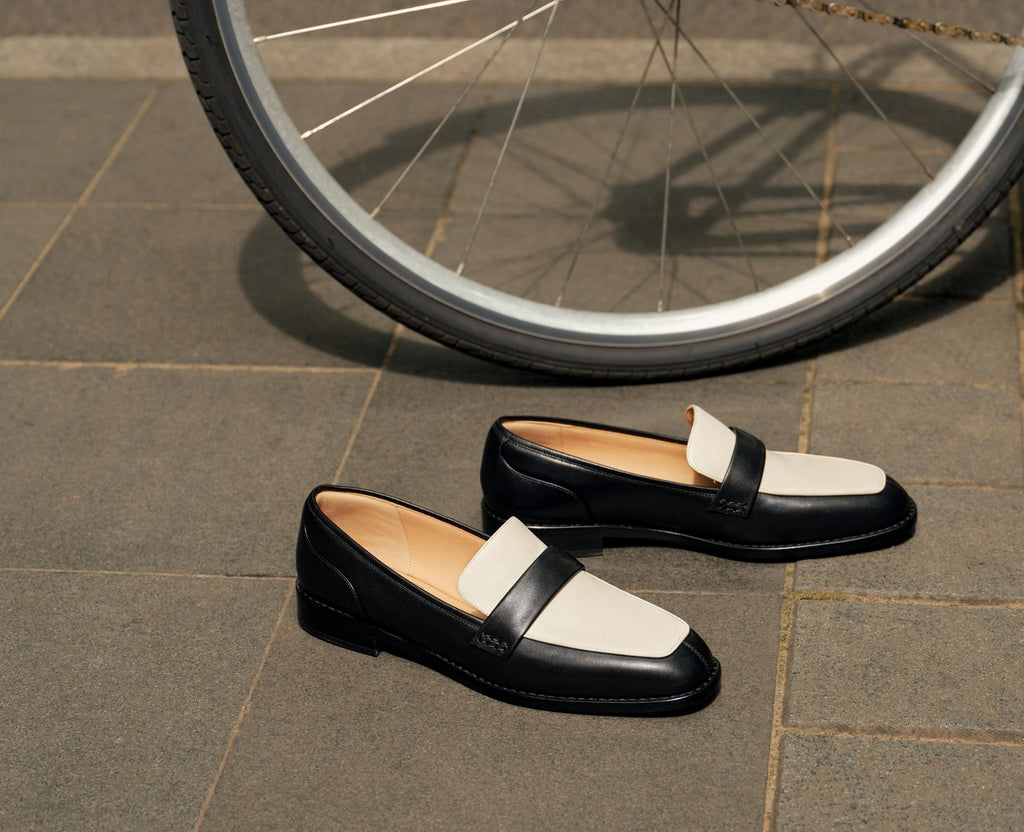 Sophisticated Simplicity: Slip Dress and Loafers
The slip dress is simplicity and elegance personified. Made from silky fabrics, it flows gracefully with every move. Loafers add polish, making this pairing prima for garden parties, cocktail soirées, and anywhere sophistication is a must. A satin slip dress with metallic loafers brings chic flair. Lace trims and sleek leather loafers ooze sophisticated style. Add a matching blazer or cardi, and you're good to go.
Comfort meets Style: Leggings and Loafers
Leggings are a comfortable wardrobe staple suited for lounging or working out. But styled right, they can also look incredibly chic. Loafers add just the needed flair, transforming basic leggings into a stylish look perfect for travel days, casual Fridays, or yoga classes. Try wearing leggings with an oversized button-down shirt and loafers. Or pair leggings with a tunic sweater and suede loafers. Finish with a crossbody bag and glasses for an effortlessly cool vibe.
Workwear Classic: Black Dress Pants and Loafers
Few combinations exude professional polish, like black dress pants and loafers. The sleek, slim cut of pressed pants complements loafers' clean lines. Together, they create a formal look fitting for the office, presentations, important meetings, or any professional setting. For versatility, try wide-leg cropped pants with metallic loafers. Or don cigarette pants with classic leather loafers. Add a silky cami or fitted tee to balance the tailored vibes.
Classy Professional: Blazers and Loafers
The timeless pairing of blazers and loafers creates instantly polished workwear looks. Wear sleek leather loafers with a fitted plaid blazer and cigarette pants for a sharp, tailored style 9-to-5. For a relaxed office vibe, try an oversized blue blazer with slacks, a silky camisole, and metallic loafers. The oversized blazer and tonal plaids are on-trend for 2023 - embrace these styles but keep the rest of the look simple and streamlined with loafers that effortlessly coordinate.
Academic Aesthetics: Dark Academia Style and Loafers
The dark academia aesthetic channels scholarly sophistication with its tweed robes and leather-bound books. Loafers fit seamlessly into this collegiate-inspired style. Pair high-waisted trousers, a turtleneck, and an oversized coat with leather loafers for book club. Style an A-line mini skirt, cropped sweater, and loafers for poetry night. This look also shines at the museum, library, or University campus.
Winter Warmth: Bulky Coat and Loafers
A bulky coat is a winter essential for staying cozy in cold weather. Pairing it with sleek loafers creates a stylish contrast for running errands or attending chilly events. Try a padded parka coat with jeans, a sweater, and suede loafers while Christmas shopping. Or bundle up in a fur-lined anorak, leggings, and leather loafers when meeting friends. This combination provides warmth while still looking polished.
Easy Elegance: Jumpsuits and Loafers
The jumpsuit embodies effortless elegance. Its streamlined one-piece design means getting ready is a breeze. Loafers provide the perfect complement, creating dressy flair for weddings, dinner dates, and beyond. Style a sleeveless wide-leg jumpsuit with metallic loafers for warm weather events. Pair dressy floral prints with sleek loafers for daytime chic. The options are truly endless with this easy, versatile pairing.
Feminine Flair: Skirts and Loafers
The skirt is a symbol of feminine style and grace. Pairing ladylike skirts with structured loafers creates outfits with flair and sophistication. Minis, midis, and maxis - each lends its own vibe. Try a button-down midi with loafers for the office or a floral maxi and loafers for weekend brunch. Pencil skirts and loafers exude retro glam, while pleated minis and loafers are youthful and fun. Dress it up with silky camis or down with knits. The options are endless for this feminine pairing.
Quirky Cool: High Socks & Tights with Loafers
High socks and tights are hallmarks of playful, quirky style. Pair them with loafers, and you've got an outfit that's equal parts fun and cool. Try over-the-knee socks with loafers for a retro combo. You can also style cable knit tights and loafers for a bookish charm. Opaque tights and patent loafers add a preppy edge. This unexpected pairing works for themed parties, creative workplaces, or anytime you want to showcase your lively sense of style.
Minimalist Modern: Going Sockless with Loafers
The sockless look channels a contemporary minimalist aesthetic. Loafers complement this style perfectly. Simply slip into your loafers sans socks for a pared-back modern flair ideal for summer hangouts, warm weddings, or casual Fridays at the office. Opt for solid-colored or metallic leather loafers to let them take center stage. Wear ankle-grazing trousers or cuffed jeans to reveal a touch of bare ankles. This fuss-free yet thoughtful styling reflects the less-is-more ethos.
Remember, while the sockless look is undeniably stylish, it might not be suitable for everyone. The comfort level can vary based on the type of loafers you have and your preference. So feel free to experiment with this style, but prioritize your comfort.
Classic Sophistication: Chinos and Loafers
Chinos are a timeless wardrobe staple revered for their laidback sophistication. Paired with loafers, they create an easy polish perfect for work, weekends, and everything in between. Tailored flat-front chinos complement sleek leather loafers seamlessly. Relaxed fit chinos in earth tones work well with suede loafers. Roll up the hems or cuff them to show off a pop of ankle and your loafers. This classic pairing works year-round for the office, parties, travel, and more.
Edgy Chic: Leather Pants and Loafers
Leather pants make a bold style statement. Their inherent edge contrasts sublimely with refined loafers, creating unexpected chic flair. You can easily style supple leather leggings with metallic loafers for nights out. Pair high-waisted leather trousers with chunky loafers and an oversized blazer for events. Or try liquid leggings with pointy loafers for an avant-garde vibe. Wherever you want to make a stylish splash, this eye-catching pairing delivers.
Call to Action
As demonstrated, the versatility of loafers allows for limitless fashion options. Now it's your turn for loafers' inspiration! Share your favorite pairings with us on social media using #LoaferStyle2023. We'd love to see how you wear loafers for work, weekends, and everything in between!
Read More