We've all been there - after a long day on your feet, your soles are screaming for relief. Whether you're a busy parent chasing after kids, a retail worker constantly walking the salesfloor, or simply someone who loves spending weekends exploring new places, achy, throbbing feet can put a real damper on your day. But what if we told you stylish comfort for your feet DOES exist? Let us introduce you to the loafers that will have your feet saying "ahhh" - the Air-touch Foam Loafers!
These are not your average pair of loafers. With a host of comfort technologies like breathable antimicrobial linings, high resilience cushioning, and a patented Air-touch foam toe box, these loafers are truly heaven for tired soles. When your feet slide into these babies, it's like slipping into a soft, supportive hug.
Let's walk through what makes these loafers so magical, shall we?
Breathable, Odor-Fighting Materials
There's nothing worse than sweaty, stinky feet, am I right? Well, the Air-touch Foam Loafers are specially constructed with breathable leathers and linings to let your feet breathe easily. No more soggy socks or funky odors after a long shift on the move. The antimicrobial properties also prevent bacteria from building up and causing shoe stink. Now you can wear your loafers to work, run errands, and go out at night without worrying about any unwanted smells. Your feet stay fresh and dry no matter what the day brings!
Cushioned Comfort That Won't Quit
With a 6mm Cushion Core and 2mm of shock-absorbing latex under the sole, every step lands soft and supported. It's like walking on clouds! These high-resilience cushioning materials absorb impact and reduce fatigue so you can walk, stand, dance the night away, and still feel energized. No matter if you're on an all-day shopping adventure or hustling around the office, the pillowy cushioning keeps your feet feeling fabulous hour after hour.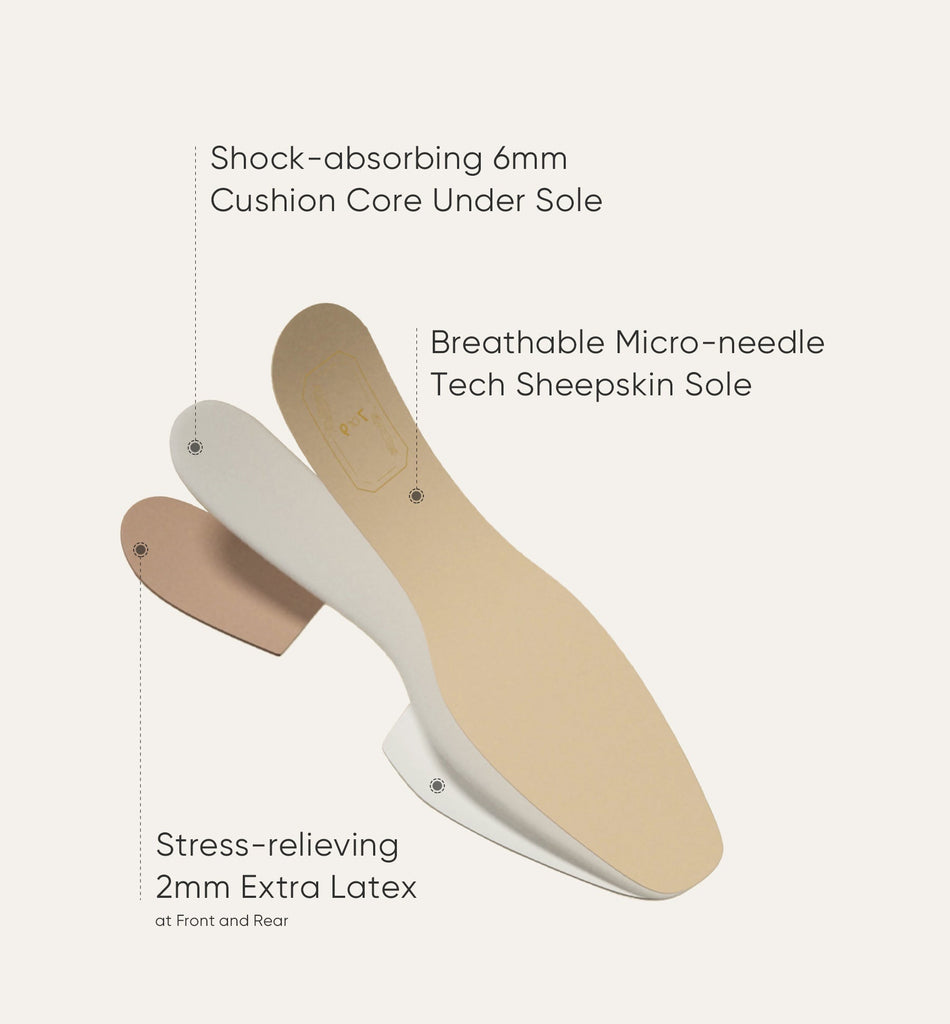 Patented Air-Touch Foam Toe Box
The innovative Air-touch toe box cradles your toe area in feather-light comfort. The unique patent design provides the ideal support and structure to reduce pain and swelling. Even after hours of wear, toes stay aligned and stabilized instead of scrunched and aggravated. Party on and keep mingling while the Air-touch box eliminates pinch points and fatigue. You'll wonder how you ever wore shoes without them!
Flexible Anti-Slip Outsole
No more slipping or sliding- the outsole on these loafers features a grippy rubber compound to keep you stable on all surfaces. The flexible construction and rubber material conform to the natural arches of your feet, providing a customized soft feel that moves with you. The outsole is crafted from an upgraded oil- and water-resistant rubber that provides 50% greater anti-slip effectiveness compared to traditional rubber, allowing you to walk with confidence. The flexible construction allows natural foot movement while providing traction, whether you're walking the dog on rainy sidewalks, dashing to catch a flight in a busy airport terminal, or navigating a friend's slippery hardwood kitchen floor trying not to spill drinks at the party.
The hidden traction pattern provides a sturdy grip so you can move with confidence and stability. Wet outdoor stairs and slick tiled floors are no match for the anti-slip protection. Stay surefooted in any situation - safety first, style second when it comes to keeping your feet firmly planted.
Classic Styling to Match Any Outfit
While the comfort technologies featured in these loafers are cutting-edge, the smooth silhouette is timeless. The leather upper comes in versatile options to seamlessly match dressy slacks or casual jeans. Dress them up with a blazer for work, then switch out for a tee or sweater to head to happy hour in style. Adding a few simple accessories like a patterned scarf, jeweled hair clip, and colorful handbag turns an everyday outfit into a real head-turner. And since the loafers are designed to pair effortlessly with 7or9 accessories, you can build a complete look starting from your happy feet up.
Wearing these loafers really makes getting dressed a breeze because you know your feet will always be cute, comfy, and ready for anything. We're so over-suffering for fashion - these loafers prove you can have both effortless style and cloud-like comfort!
Your Feet Deserve Air-Touch Comfort
So why are you still settling for just OK shoes? Your feet deserve to feel fabulous! Slip on the Air-Touch Foam Loafers and experience the bliss for yourself. Your soles will thank you. No more limping home after a long day, no more bandaids on blisters or ice packs for swelling. With these loafers' pampering fit and feel, you can keep up with even your busiest days in style and comfort. Don't your feet deserve it? Of course they do!
Read More